ICBDE 2022 / Shanghai, China (Online) / February 26-28, 2022
The 5th International Conference on Big Data and Education (ICBDE 2022) was held virtually during February 26-28, 2022 due to the continue COVID-19 disruption.

ICBDE 2022 program included keynote speeches, invited speeches and parallel sessions reflecting the state-of the research in big data and education. Seven scholars from UK, China, Norway, Canada, USA delivered the keynote speeches and invited speeches. In addition, Eight parallel technical sessions were successfully conducted with the efforts of the session chairs and presenters.

At the awards and closing ceremony, ten best presenters were announced.
Conference Group Photo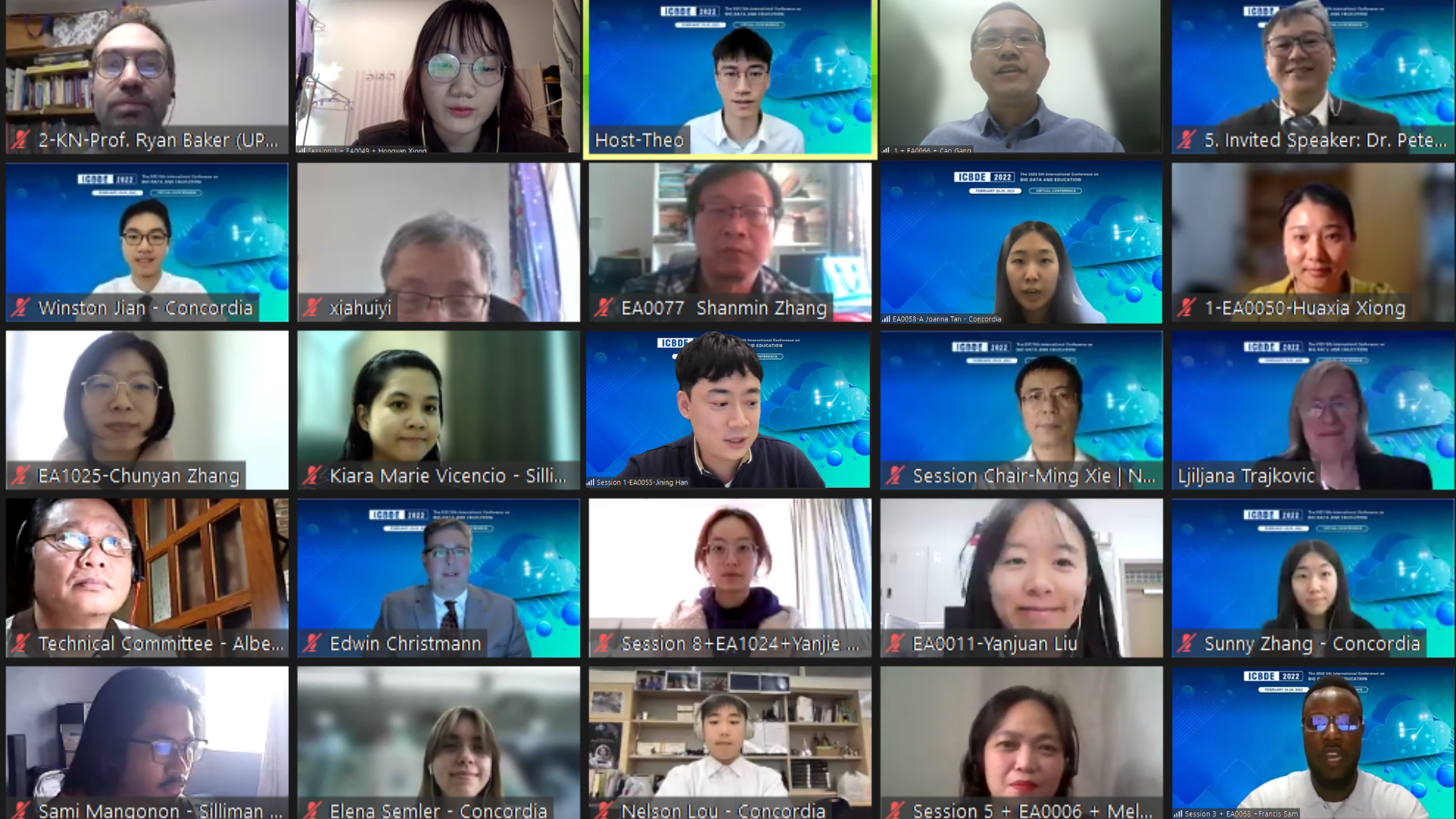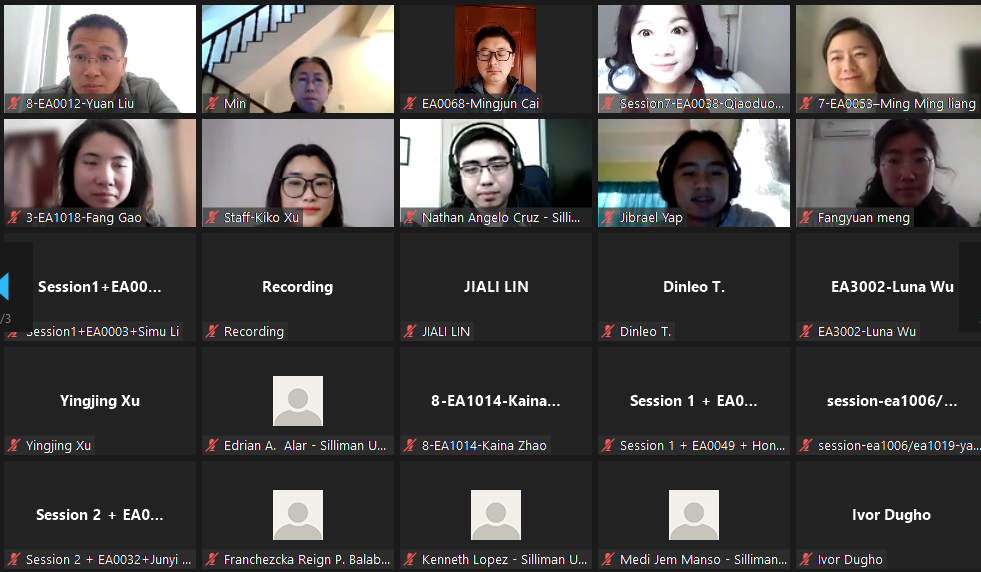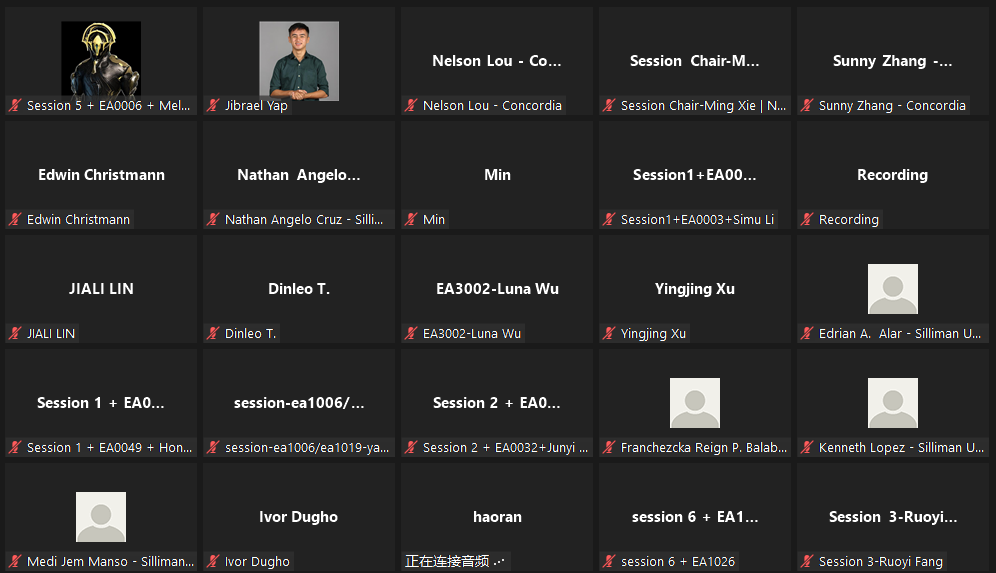 Keynote Speakers
Prof. Ljiljana Trajkovic, Simon Fraser University, Canada

Prof. Ryan Baker University of Pennsylvania, USA

Invited Speakers

Prof. Edwin P. Christmann

Slippery Rock University, USA

Prof. Jerry Chun-Wei Lin

Western Norway University of Applied Sciences, Norway

Prof. Xiwen Zhang

Beijing Language and Culture University, China

Dr. Peter Tong

Concordia International School Shanghai, China

Session Chairs

Session Group Photos

Best Presentation Award Winners

Jining Han
Southwest University, China

Yi Liang
Beijing Language and Culture University, China

Xiaolin Xia
Tianjin University, China

Elena Semler
Concordia International School China, China

Luying Zhang
Harbin Institute of Technology, Shenzhen, China

Melody Angelique C. Rivera
Silliman University, Philippines

Mirae Kim
Concordia International School of Hanoi, Vietnam

Zhiqing Zhao
Huazhong University of Science and Technology, China

Qiaoduo Chen
University of Chinese Academy of Sciences, China

Yang He
Tianjin University, China
Closing Remarks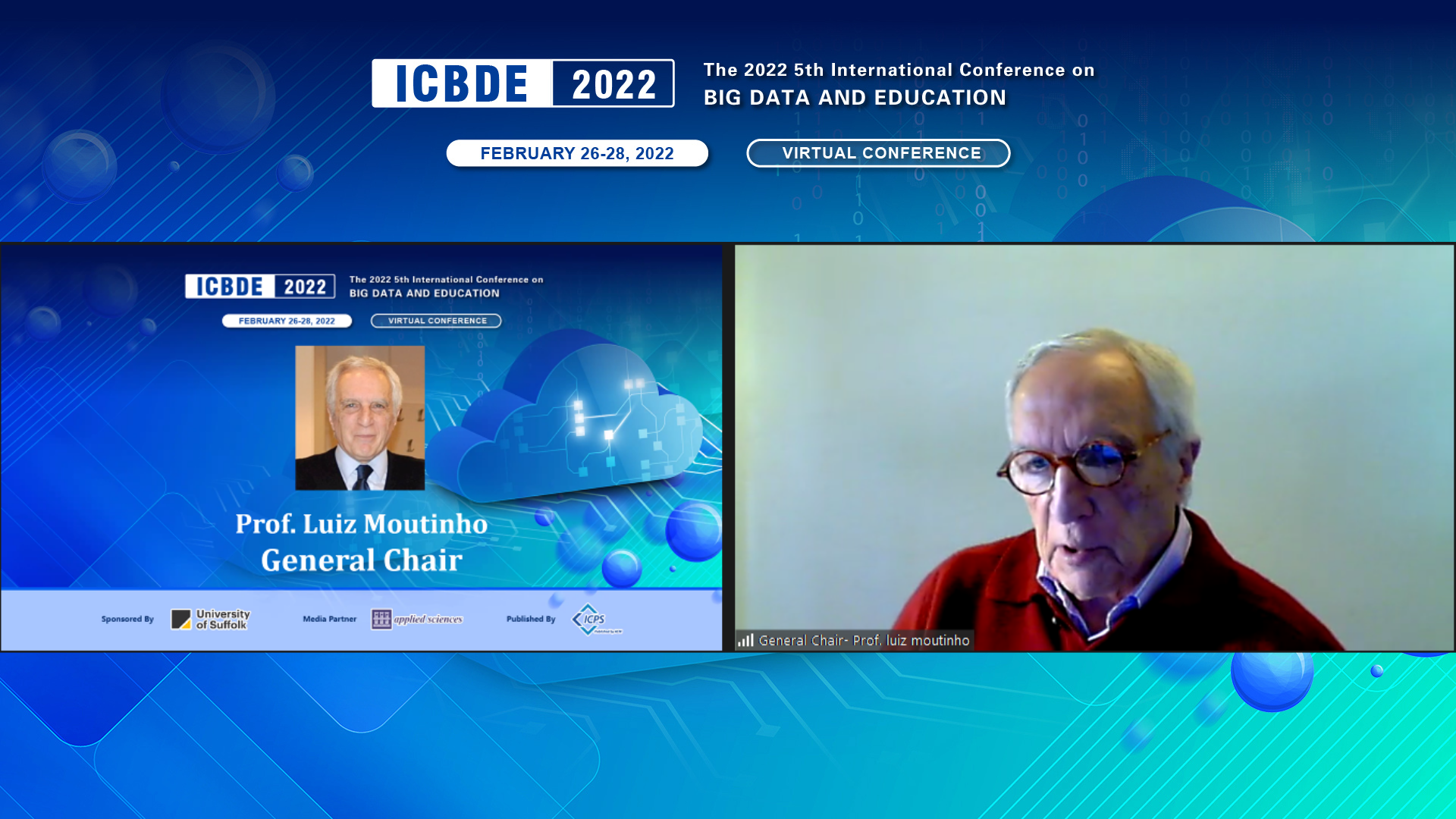 Outstanding Reviewers
Prof. Pedro Ribeiro Mucharreira, University of Lisbon, Portugal
Prof. Ahmet Ok, Middle East Technical University, Turkey
Prof. Xi-wen Zhang , Beijing Language and Culture University , China
Assoc. Prof. Yu Dai, Tianjin University, China
Asst. Prof. Jining Han, Southwest University , China
Assoc. Prof. Hui Jia, East China University of Science and Technology, China
Assoc. Prof. Kefeng Fu, Xi'an University of Science and Technology , China
Assoc. Prof. Binghui Wu, Shaanxi Normal University, China
Asst. Prof. Yupei Zhang, Northwestern Polytechnical University, Xi'an, China.
Senior Researcher. Elaheh Pourabbas, National Research Council, Italy
Asst. Prof. Rui Yang , Xi'an Jiaotong-Liverpool University, China
Asst. Prof. Melody Angelique C. Rivera, Silliman University , Philippines
Dr. Peijie Jiang, Hunan Normal University , China
Dr. Peter Tong, Concordia International School Shanghai, China


ICBDE 2022 ISBN: 978-1-4503-9579-3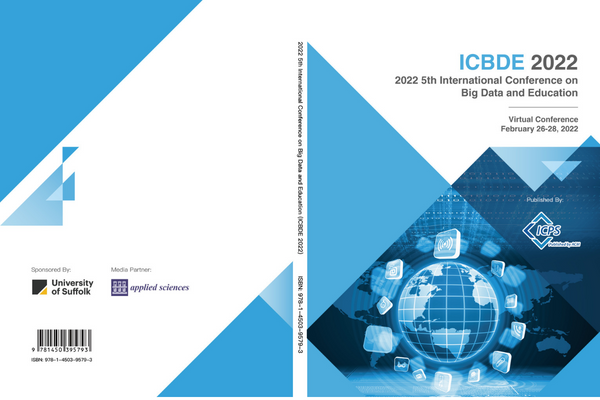 ACM Digital Library: https://dl.acm.org/doi/proceedings/10.1145/3524383
Ei Compendex
Scopus